Cindy and Kevin Pagenkopf have simultaneously succeeded at honoring the traditions of their family business while still growing and changing. This couple is the fourth generation of owners of Pagenkopf Funeral Home in Oconomowoc, Wisconsin. The family business originally started in 1913, and Cindy and Kevin took over as owners in 2008.
THE BUSINESS
Kevin's great grandfather started hosting funeral services out of his own home back in 1913 because there was a need for those services in the small community of friends and neighbors. To this day, Cindy and Kevin make sure their caring, compassionate staff cares for all families as if they were their own, just as the original business did. However, they have grown to a facility much larger than Kevin's great grandfather's home.
The business is currently operating out of a 5,000 square-foot building. When Kevin and Cindy purchased the business, they first set out to remodel and update the interior space. They sought a warmer and homier atmosphere than is usually typical of a funeral home. They converted a small space to a welcoming coffee bar area for families to use. When it came time to update the exterior as well, this couple realized a new investment might be in order to meet all their needs such as an elevator lift used in transporting coffins. They began researching properties for sale and looking more closely at financing.
THE GROWTH
Their search for help brought them to the Small Business Development Center (SBDC) housed in the Waukesha County Center for Growth. Here they met Lucy Waldhuetter, an SBDC consultant. "Lucy was a game changer for us. By taking a detailed look at our financial projections, she helped us see getting approved for a loan was indeed possible. And Waukesha State Bank was amazing to work with."
Soon, Pagenkopf Funeral Home will move to an even bigger space of 16,000 square feet. The groundbreaking for the new facility commenced in October 2021. The business will house a large chapel and a patio both overlooking the lake, a second smaller chapel for more intimate services, a banquet facility, three private spaces designated for meeting with families, and a four-car garage for funeral vehicles. It also includes a crematorium for their newly added cremation services. Even the parking lot has grown from the current 36 parking spots to 140. The new facility will accommodate all the business needs as well as offices for a growing staff.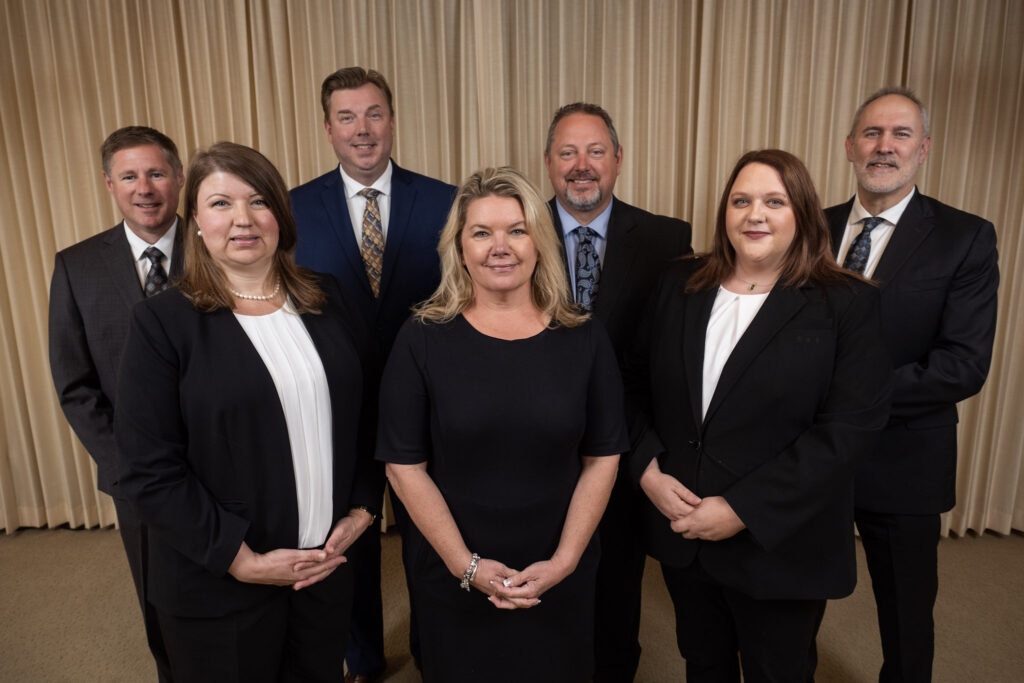 THE ADDITIONS
A particularly special new staff member will be Arthur, the family's four-year-old black lab dog who is currently in training to become a comfort dog. He is working with a professional trainer who was featured on the TV show America's Top Dog. Cindy said, "Arthur just loves people!" Since this family has such love and appreciation for pets, they noticed the need for a pet crematorium in the community as well.
Their pet crematorium will be a separate business housed on-site at the new facility. It will have its own lobby and entrance and will offer a unique service in the form of single pet cremation in comparison to the communal cremation offered at most vet offices. They will also provide pick up and transportation services for pets who have already passed.
We look forward to seeing the new Pagenkopf Funeral Home facility up and running and we wish lots of continued success to this long-time family business.
"Lucy was a game changer for us. By taking a detailed look at our financial projections, she helped us see getting approved for a loan was indeed possible. And Waukesha State Bank was amazing to work with."
Cindy Pagenkopf
Pagenkopf Funeral Home
Accomplishments with Waukesha County SBDC
Financial projections
Business strategy