Kimberly Hall struggled for months with finding a brick-and-mortar location for her bakery business, but then a wonderful opportunity found her! Signature Sweets was already in business for about a year when an existing cupcake shop owner contacted Kimberly with a chance to buy physical space as well as assets. Kimberly first tried a pop-up event in front of the existing shop in July 2020, to see if her products were a good fit for the clientele in the area. She sold out in one hour!
THE BEGINNING
Thus, the decision to move from baking in her kitchen at home and purchasing the space was easy. With the help of family members, Signature Sweets opened in Shorewood in December 2020. Kimberly's daughter, Keshaun McCloud, helps run the day-to-day business. Her husband, Taurus Adams, does maintenance, cleaning and "everything but the baking," Kimberly said. Her niece, Rayna Nickson, helps in the store on Saturdays, the busiest day for sales. Together, these four people juggle all the tasks for the unique bakery business.
THE CAKES
Custom cake orders like giant dinosaurs, purses and other 3-D shapes are hand-sculpted by Kimberly. The business also offers traditional cookies and wedding cakes as well, and Kimberly's contract with the Milwaukee Bucks keeps her VERY busy. She had made many three-dimensional basketball cakes and lots of "Fear the Deer" logo cakes in the past, and the orders just kept multiplying as the Bucks moved into, and eventually won, the 2021 conference finals. This booming business owner's fame does not end there.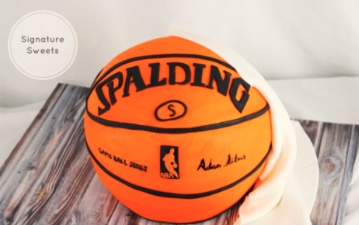 THE PUBLIC EYE
Kimberly has appeared on television several times. She has competed on baking shows on the Food Network seven times and even won once! She has served as a judge on Buddy vs. Duff, a show that pits two of the most famous cake artists in the country against each other on various challenges.
She was a guest on The Steve Harvey Show during an episode encouraging people with a specific talent to take a "jump" into their desired field. Kimberly also appeared on local television shows and Sister Circle, a live talk show focused on empowering women.
And TV isn't her only brush with notoriety. Kimberly was featured in both Cake Masters and American Cake Decorating magazines. The mayor of Milwaukee proclaimed November 3 as Signature Sweets Day in the Wisconsin metropolis in honor of this unique bakery.
THE RESOURCES
Many different entities helped Kimberly and her business reach these outstanding milestones of success. In the beginning, the Northwest Side Community Development Corporation (NWSCDC) helped to provide start-up capital. Later, Fiserv's Back2Business program and the Wisconsin Economic Development Corporation's We're All In grant helped to provide COVID relief funding.
In 2019, Kimberly came to the UW-Milwaukee Small Business Development Center (SBDC) when she needed help updating her business plan. Cheryl Mitchell, the Center Director at the SBDC, was helpful in so many ways. "She was awesome! Cheryl was so good at putting everything into perspective, giving me ideas on what to do next and working with financial projections!" Kimberly shared.
"Cheryl was so good at putting everything into perspective, giving me ideas on what to do next and working with financial projection!"
Kimberly Hall
Signature Sweets