George Paasewe's entrepreneurial journey started by writing a book impacting higher education institutions nationwide and launching two separate businesses.
THE BOOK
How Black College Students Learn Code-Switching is based on George's 2015 research study, conducted through the Ronald E. McNair Scholars Program on The University of Wisconsin-Whitewater campus. The book details how black college students learn to alter their appearance, behavior, speech and other elements to navigate predominantly white institutions. The book's second edition focuses on anti-racist practices that higher education institutions can implement to refine their diversity, equity and inclusion practices to foster a safe, welcoming and inclusive campus for students and staff of all backgrounds. Thirty-four higher education institutions currently utilize George's text in their curriculum for instruction and programming.
THE BUSINESSES
George said a couple of obstacles to initially forming his LLC were not having much working capital and not having guidance on how to even start the business. He reached out to Athena Agoudemos at the UW-Milwaukee Small Business Development Center (SBDC) for assistance.
"Athena was awesome!" George said. "She helped with my business plan and structure as well as marketing and e-commerce. She helped me discover opportunities for funding and resources for speaking engagements."
Notably, she introduced him to Project Pitch It! In this show, now in its 6th season, Wisconsin entrepreneurs pitch their ideas to a panel of leading business moguls who question, advise and challenge participants to take their ventures to the next level. In 2021, George won the grand prize, and he credits the SBDC for this success. "If it hadn't been for Athena, I would not have even heard of the competition," he said.
One of his businesses, The Code-Switcher, began in 2020, as both a publishing house and a speaking engagement business. Soon, the book was being used at so many higher education institutions that George's numerous speaking engagements began to overshadow the publishing house. In 2022, the entities were separated into two distinct businesses.
Educare Publications was established to help students and professionals publish their own books and the Code-Switcher remained focused on George's books and speaking engagements. He has published four books to date: the first and second editions of the code-switching book and two children's books, Lyla's World and One Day I Will Become an Alpha.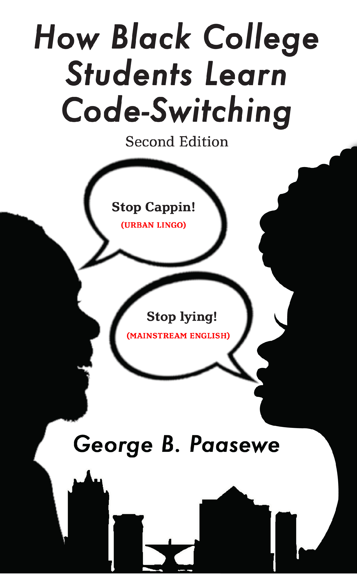 THE SPEAKING ENGAGEMENTS
Typically, institutions purchase George's code-switching books to do a "common read" with groups. George is invited to speak either before or after the group has read the book, usually in one of three formats.
The lecture format is student and staff focused, with an informative presentation followed by a question-and-answer session.
The round table format is a discussion after the guided read that includes information sharing, reactions, and questions about the book. In this format, all participants are welcome to share ideas. Both formats happen in a one-hour session, either virtual or in-person.
The third format, a training workshop, happens over about two hours. This is more of a deep dive that propels participants to investigate the concept further on their own through case studies, scenarios and a research study activity.
"Athena was awesome! She helped with my business plan and structure as well as marketing and e-commerce."
George Paasewe
The Code-Switcher
Accomplishments with UW-Milwaukee SBDC
Business plan
E-commerce
Business structure
Marketing
Funding opportunities
THE PROGRAMS
Educare offers three different programs as well. The first, the Creative Writing Publishing Program, is a 15-week endeavor to teach people how to publish their own works. The second, the Educare Publications in the Classroom Program, was inspired by George's passion for reading and the excitement he felt when he first saw someone like himself as a character in a book and as an author.
This program supplies low-income and rural schools with books that help expose people to diversity and help develop life-long learning. In 2021, the business distributed approximately 300 books to Wisconsin schools. The books were donated by libraries, schools, individuals and other sources. "I hope we can increase that number to 1,000 books distributed to schools in the next fiscal year," George said.
The third, the Elevate Diverse Voices Scholarship and Grant Program, was developed because George wanted to give back. He hoped to help other writers economically. The scholarship program is based on an essay answer to the question "Why is it important to feel seen?" and will award prizes to two winners this year. George hopes this award can be given to even more applicants in the future. The grant portion of the program establishes monies to fund illustrators, printers and other book publishing costs.
Keep your eyes open to see how this innovative entrepreneur continues to inspire change in the future.
See George's flyer for more information.