Brennan and Shilah Seehafer are the co-owners of The Wharf Manitowoc which has put Manitowoc on the map as a nightlife destination in Wisconsin.
THE BUSINESS
This small business started as a seasonal bar and event venue with 12 employees. They operated in this capacity for two years and then decided there was a need to build something more permanent with the capacity to host different types of events and bigger musical acts. The Wharf Manitowoc now offers a waterfront bar, a restaurant, a wedding venue and live music. They have grown to a staff of 35 employees.
Their location is unique as there are not many public access locations along the waterfront in downtown Manitowoc. They offer a huge 4,000-square-foot patio, and their retractable roof ensures concerts are not cancelled due to inclement weather. The roof can be fully opened and retracted in just three minutes.
THE RESOURCES
But it wasn't always smooth sailing for these entrepreneurs. Like many small business owners, they needed funding assistance, especially when they decided to build a permanent facility. For guidance, Brennan and Shilah enrolled in the Entrepreneurial Training Program (ETP) offered by the UW-Green Bay Small Business Development Center (SBDC).
"Honestly, without the ETP class, I probably would not have been able to secure the loan I needed with a bank. The business plan we created in ETP helped with the details and the strategy that investors wanted to see. It is one of the most beneficial classes I've experienced," Brennan said.
The small business owners were thrilled with funding provided by The Bank First National in Manitowoc for the original land purchase. They were also grateful for Nicolet National Bank's assistance in financing the building of the permanent structure. "We also wouldn't be where we are without the hard work and expertise of Keller, the construction company we contracted with for the build," Brennan said.
"Working with David Stauffacher and Tara Carr at the SBDC was great! I already knew the basics of business ownership, but they helped me see the big picture and develop quality growth strategies," Brennan added. One strategy he needed assistance with was how to build business in the winter.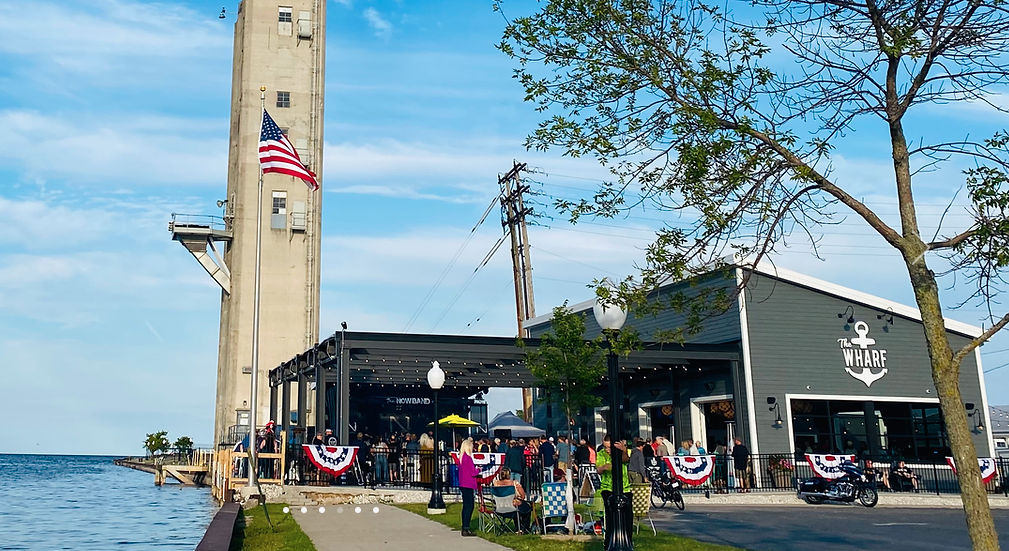 THE GROWTH
The waterfront brings in lots of tourists and clients in the summer, but Brennan and Shilah were looking for ways to draw a winter crowd. They have added outdoor igloos to their space for autumn and winter which people love to use to enjoy the food and beverage services at The Wharf Manitowoc.
The venue offers more than 150 free shows to the public each year, which draws lots of residents as well as guests from out of town. "Those tourists from other locations really help our local economy by shopping in our community and staying in local hotels. Our location near the ferry brings lots of tourists who are here from Chicago or on their way heading to Door County," Brennan said.
Brennan and Shilah have even opened another business in the area. The Venue at Union Square, also located in Manitowoc, is a beautiful 5,000-square-foot space for weddings. It can also be rented for holiday parties and other events, complete with bar and event staff and lighting and sound equipment. The success of this business is obvious with more than 150 weddings booked from now until 2024.
The future for these entrepreneurs is bright indeed and we look forward to seeing what Brennan and Shilah do next!
"Honestly, without the ETP class, I probably would not have been able to secure the loan I needed with a bank. The business plan we created in ETP helped with the details and the strategy that investors wanted to see. It is one of the most beneficial classes I've experienced."
Brennan Seehafer
The Wharf Manitowoc
Accomplishments with UW-Green Bay SBDC
Entrepreneurial Training Program
Funding assistance
Growth strategies
Business planning