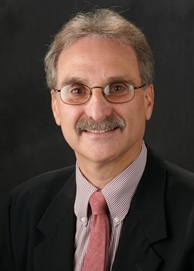 Neil Lerner received the Chancellor's Career Award from the University of Wisconsin (UW)-Colleges and UW-Extension in Madison, WI on September 22, 2016. UW-Extension has hosted the Small Business Development Center Network (SBDC) since its inception in 1985. Neil is the Associate Director of Strategic Operations for the UW-Extension SBDC network.
Neil's sustained commitment to the SBDC spans over 23 years and counting. Neil joined the UW-Madison SBDC program as a counseling services manager in 1993. He was promoted to co-director of the center in 1995, and served as the full time director from 1996-2014. The center has demonstrated excellent client service and results.
The sustained success is not possible without innovation and creative resource stewardship. The Business AnswerLine is one example of Neil's tried and true innovations. Annually, this statewide service fields over 2,000 calls from residents interested in doing business in Wisconsin. The outstanding quality of the personal service is recognized by the State of Wisconsin. The Wisconsin Economic Development Corp., and its predecessor, the Wisconsin Department of Commerce, use the AnswerLine to provide follow-up for their inquiries.
Neil has developed and maintained on-going community partnerships resulting in resources for support of SBDC efforts. One has to only attend the Dane County Small Business Awards event to see partnerships with Chase, MG&E, InBusiness Magazine, Midwest Family Broadcasting, Wisconsin Business Development Finance Corp., Wisconsin Supplier Diversity Council and others. His creative ideas and strong partnerships have resulting in funding numerous initiatives that have benefitted the whole network.
Neil has a life-long commitment to diversity and inclusiveness. Under Neil's direction, the UW-Madison SBDC began and is the only office in the state to continue to offer Hispanic specific small business consultation services, through a collaborative partnership with the Wisconsin Women's Investment Corp. This service has been offered for over 10 years. Neil has employed traditional aged college students to retired professionals, women and minorities throughout his career.
Neil's service at the state office has had immediate positive results. Based on his ability to identify needs to respond to changing clientele, Neil is leading new rural outreach initiatives in the SW and NE Wisconsin as well as a new partnership with the Waukesha Business Alliance and Waukesha County. These initiatives are supported by additional funding Neil was instrumental in obtaining; resulting in new positions for the program.
Neil is a smart man of integrity and grace, kindness and good humor. He is quick to see the value of others, respectful of tradition while being open to change and compromise. He truly loves the state and his work. His office is home to his wide collection of phots and artifacts honoring the state's beauty and people. He has Neil Lerner to receive Chancellor's Career Award and continues to demonstrate, through his actions, the Wisconsin Idea in practice. Neil embodies the statements from UW-Extension's credo written in 1951, especially, "I believe in people and their hopes, their aspirations and their faith; in their right to make their own plans and arrive at their own decisions; in their ability and power to enlarge their lives and plan for the happiness of those they love…I believe in my own work and the opportunity I have to make my life useful to humanity. Because I believe these things, I am an Extension professional."
Congratulations Neil.
Source: Bon Wikenheiser – Wisconsin SBDC State Director