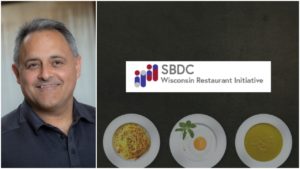 The Wisconsin Small Business Development (SBDC) Network is launching the Wisconsin Restaurant Initiative to improve the business performance of restaurants, a critical economic driver of jobs and tourism in the state.
Wisconsin's 12,796 restaurants employed more than 212,000 workers and accounted for $3.43 billion in sales in 2018. The industry is growing but volatile, especially in rural areas.
The Wisconsin Restaurant Initiative (www.wisconsinsbdc.org/restaurants) will offer specialized technical assistance primarily to existing establishments seeking to increase sales and improve operations and secondarily to startups.
Jason Schleip, the SBDC initiative's lead consultant, has more than 25 years of restaurant creation, management and franchise experience as the founder of Falbo Bros Pizzeria.
"The restaurant industry has always been highly competitive, but rising costs and labor shortages have made it more challenging than ever," Schleip said. "When troubleshooting tricky problems with restaurant owners, there is no substitute for experience. I have the passion, background and practical knowledge to help them succeed."
The Wisconsin SBDC, which has offered no-cost, confidential consulting across the state since 1980, is well-positioned to help boost the restaurant industry. In 2019, SBDC consultants provided more than 450 hours of consultation to 92 restaurant clients, including 18 new ventures. These efforts supported 568 jobs and led to $3.8 million in capital investment.
"The SBDC's mission is to be an impactful resource for Wisconsin entrepreneurs, and this initiative provides experienced consulting to this important industry," said Bon Wikenheiser, Wisconsin SBDC state director.
The SBDC will work with the Wisconsin Restaurant Association and the Tavern League of Wisconsin as well as restaurant vendors and suppliers for client referrals. The initiative is funded through the U.S. Small Business Administration.
To learn more or get started, contact Schleip at 608-381-2352 or . 
About the Wisconsin SBDC
The Wisconsin Small Business Development Center (SBDC) is a statewide network supporting entrepreneurs and business owners through no-cost, confidential consulting and business education. Regional SBDC experts facilitate improvement and growth for small and emerging mid-size companies and help launch successful new enterprises. The Wisconsin SBDC is hosted by the University of Wisconsin System Administration under the Institute for Business & Entrepreneurship. www.wisconsinSBDC.org