In 2020, Courtney and Erica Tate opened Ontime Quality Machining (OQM), a CNC machine shop that makes customized components.
THE BUSINESS
Courtney described the business saying, "Imagine something you want to build. We can make it a reality by starting with a blueprint on paper. We then design a 3-D model to make it tangible using computer numerical control (CNC) program code to shape stock materials like metal, plastic, wood or other materials into customized parts."
OQM makes everything from coffee cups and furniture to parts for rockets, automobiles and the medical industry. "We have designed engine parts as well as pieces to be placed into a patient's spine. It is always something different," Courtney said. Since they opened, they have already added two additional CNC machines and hired two additional employees.
"[Mary's] guidance on financial projections and business strategy truly helped me realize my vision."
Courtney Tate
Ontime Quality Machining
Accomplishments with UW-Parkside SBDC
Financial projections
Business Strategy
THE GIVING BACK
Now that Courtney has accomplished his dream of opening his own CNC machine shop, he looks forward to fulfilling another dream: giving back to his community. Courtney is partnering with a Milwaukee Area Technical College (MATC) instructor to introduce a 16-week training course that will equip the young, old, unemployed and underemployed with a new job skill. This skill can bring individuals the chance to earn a living wage. Courtney will be responsible for the second half of the course which will introduce students to ordering metal, writing program code, developing 3-D models and utilizing the CNC machines to create objects. Courtney graduated from MATC with a CNC certification, so he views the new class as a great way to give back to the community. "Part of my mission is to change lives and neighborhoods," he said.
Courtney made the choice to overcome some very tough experiences growing up. Besides a lack of support from home, theft, crime and murder were things he saw often in his community. "At a young age, I would cut grass, pull weeds and shovel snow to earn money to buy food and a Christmas tree for my siblings," he said. "I knew I had to have street smarts to survive, and I happened to be good at math, science and art, so school became my escape. These skills gave me a chance at a real career, and I want to pass this chance onto others."
THE RESOURCES
In June of 2020, the co-owners came to the UW-Parkside Small Business Development Center (SBDC) where they collaborated with consultant Mary Fischer-Tracy. "Mary was helpful and very knowledgeable. Her guidance on financial projections and business strategy truly helped me realize my vision," Courtney said.
"We lease a 2800 square-foot workshop and office space from Lloyd Levin, who introduced us to the Wisconsin Women's Business Initiative Corporation (WWBIC). WWBIC assisted us in creating our business plan to pitch to lenders, and we were ultimately awarded an SBA loan to use in the purchase of our start-up equipment," he said.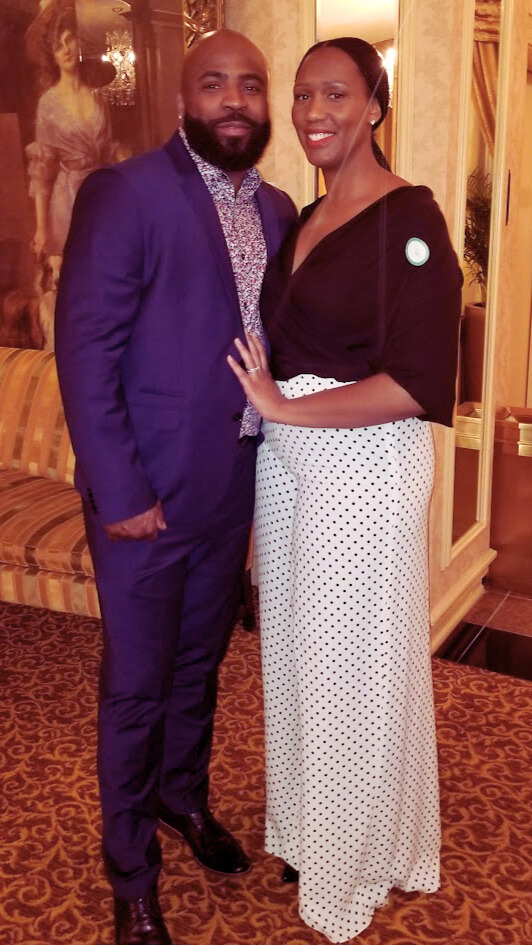 THE OBSTACLES
Like most small businesses, OQM had to overcome, and continues to overcome, obstacles along their journey. "One challenge is simply informing people about what this industry does. I feel like a trailblazer," Courtney said. The Tates are ramping up marketing to spread the word that they exist, right in the heart of Milwaukee. Another challenge is working in a field dominated by white males. "Sometimes it is an issue just finding people who want to work with me since I am not a white male," Courtney shared.
THE FUTURE
However, Courtney and Erica are determined to grow their business. "I want to hire more folks, so I can help improve lives and give people a chance to earn real income. In the future, we even hope to offer franchising opportunities so others can enjoy entrepreneurship. The thing I love most is the freedom to do my art the way I want to. I can control the business processes without getting approval or permission. I would love to give someone else the chance to fly the way they want to fly as well. I am not dead or in jail. I did it! I can relate to kids who are lost or who carry guns, and I am ready to meet them where they are. Those kids can now complete schooling and get on the job training with our help."
Best of luck to OQM as they continue to grow and improve lives and neighborhoods!