Jamie and Gregory Schab purchased the Hiles-Pine Lake Campground in April 2021 and, through all their quick work, they were open for business on May 1.
THE BEGINNING
This entrepreneurial couple had a contractor on board and ready to begin renovations the day they bought the campground. Jamie and Gregory had been looking for a campground to purchase for a while. They saw the campground as an opportunity to run their own business and to teach their kids a strong work ethic. The couple's two sons, Nolan and Joshua, help with groundskeeping, wood delivery, maintaining the boats and other tasks at Hiles-Pine Lake Campground.
Jamie and Gregory knew they had discovered the right campground for them right on the lake in Hiles, Wisconsin. At the time of purchase, there were 88 camp sites, including primitive, 20-amp, 30-amp and 50-amp sites as well as seasonal sites. The business also offers rental of boats and campers. In 2022, they added two-bedroom "glamping" cabins that sleep six and are furnished with a sink, microwave, stovetop and television.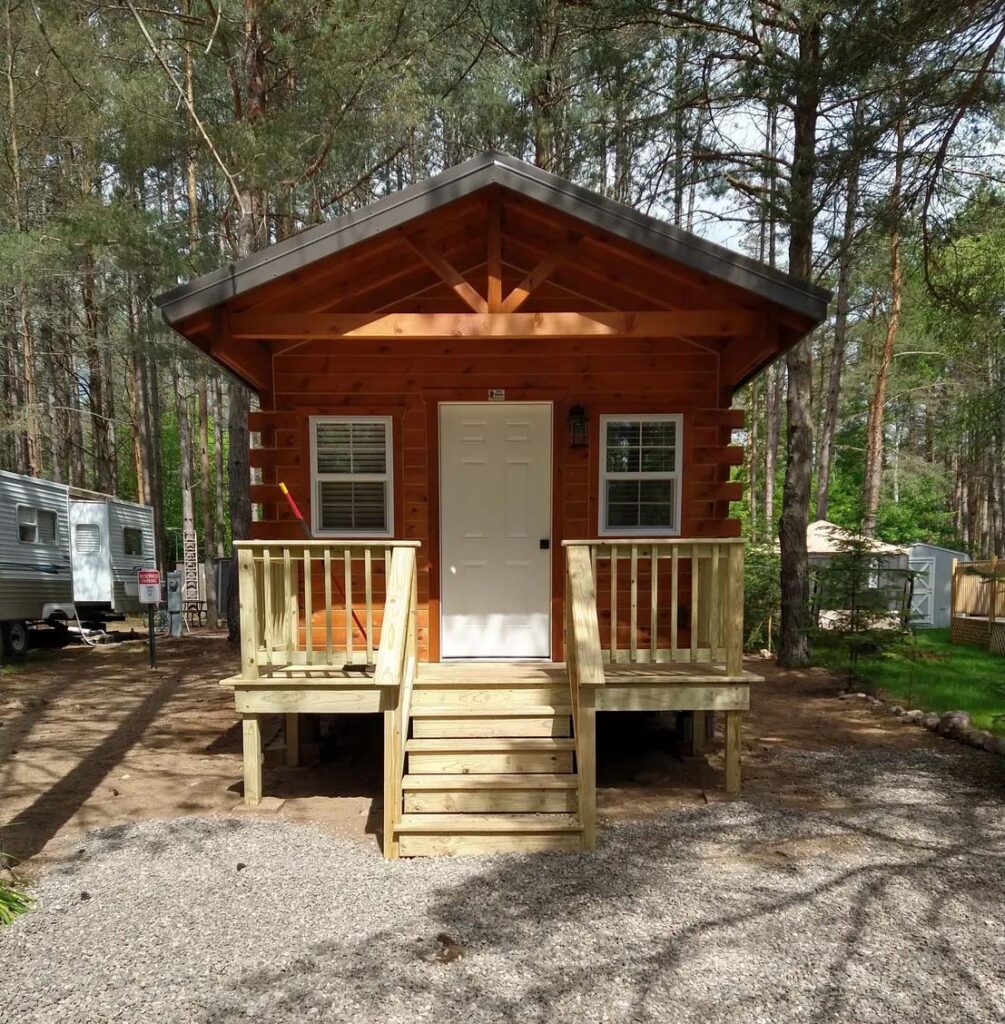 THE SPECIAL EVENTS
The couple's first challenge was marketing as even locals were not aware the campground existed. Jamie created Facebook pages and purchased radio ads in both Chicago and Milwaukee. She is also designing special events onsite to attract campers.
In June, they are hosting a bean bag tournament and Nolan's Northwoods Expedition, a fun-filled day for families with special needs children and adults. The event will feature a focus on autism awareness as well as a music therapist. On July 22 and 29, they are hosting "Christmas in July," featuring prizes for the site with the best holiday decorations and other Christmas fun. August brings a back-to-school event complete with face painting, balloon animals and other delights to entertain kids.
The campground is working with other local organizations on special events as well, including the Autism Society, the American Legion, the Forest County ATV Association and the Forest County Chamber of Commerce.
We really enjoyed the Entrepreneurship Training Program (ETP) offered by the SBDC as well. We learned a lot, had lots of fun, and got to engage with a good group of other local entrepreneurs."
Jamie Schab
Hiles-Pine Lake Campground
Accomplishments with UW-Green Bay SBDC
ETP course
Business plan
Financial template
Accounting guidance
THE SBDC
Another form of assistance came from David Stauffacher, a consultant at the UW-Green Bay Small Business Development Center (SBDC). "David was really helpful," Jamie said, "especially with accounting details. He provided us with financial templates that we still use today. We really enjoyed the Entrepreneurship Training Program (ETP) offered by the SBDC as well. We learned a lot, had lots of fun, and got to engage with a good group of other local entrepreneurs. We were even a first-place award winner for the business plan we developed in the course."
THE CHANGES
Some of the obstacles Jamie and Gregory had to initially overcome were clearing dead trees and performing other grounds upkeep that had been neglected for a while. They completely renovated the campground office and shower house as well as upgraded the existing garage. They implemented a new reservation software system and developed their own website.
And their hard work is paying off! Campers have already expressed their sincere appreciation to the couple and want to keep coming back for years to come. Jamie is excited that they will continue to expand on the 20-acre campground, incorporating more 50-amp sites to accommodate larger campers and electricity needs. They look forward to cleaning up the lakeshore even more, making it ideal for the 10 sites located on the shore. We can't wait to see how the Schab family finds ways to make this campground even more of a destination for relaxation and fun.