Did you know solar panels could look like trees or gentle waves? Solar Forma, an Ideadvance Seed Fund awardee and SBDC at UW-Eau Claire client, is out to revolutionize the way we view green energy.
The Eau Claire company, founded in 2019, designs aesthetically pleasing multi-purpose solar products for public spaces. Its E-Cacia Solar Tree, based on the acacia tree of Africa, provides shelter, lighting, wireless device charging, electric vehicle charging and a WiFi hotspot. And the E-Wave Carport, based on the waves of oceans and lakes, has similar features.
Their goal of selling their first E-Cacia Solar Tree by mid-2021 has been supported in part by the Ideadvance Seed Fund Program, where they received a Phase 1 $25,000 grant to help reduce business and technical risk through idea validation with expert support and intensive customer interviews.
"Ideadvance has been a great experience in that it has forced us to be more disciplined and introspective in our business planning," said Brian Graff, Solar Forma owner and general manager. "Being compelled to distill our value propositions down in the manner that the methodology required and then to analyze those responses was eye-opening but very helpful in more specifically positioning our company and targeting prospects. Of course, the grant money was very helpful and much appreciated as well."
New Idea Concierge Dr. Idella Yamben says companies like Solar Forma demonstrate the broad definition of innovation that the Ideadvance program invites. "Through novel partnerships and access to UW talent, Ideadvance can be a catalyst for flavors of innovation that result in local, economic impact," Yamben said. "We are excited to see the cohort of new innovative applicants for this July 16 deadline."
On June 1, Solar Forma received much-deserved attention from U.S. Rep. Ron Kind during his visit to Eau Claire businesses. In attendance were various partners of Solar Forma, including the SBDC at UW-Eau Claire who has provided financial and marketing assistance whenever needed.
"Fun. Dedicated. Passionate. These are truly great qualities for any business owner," said Luke Kempen, director of the SBDC at UW-Eau Claire, of owners Greg Johnson and Brian Graff.
Graff credits the SBDC office as a great resource for financial advice and other support. "Luke and Harlie have been easy to access, and their experience and insights have allowed us to advance our business plan forward without delay and without incurring outside costs at critical junctures."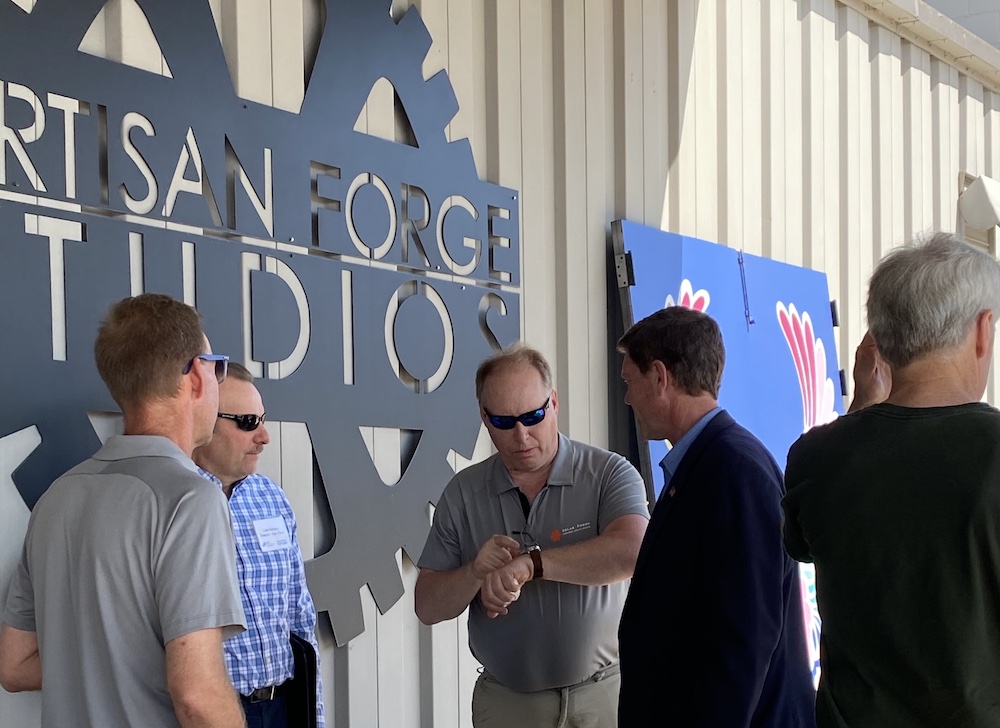 If you or a business you know could benefit from idea valuation, expert advice and a grant to advance your innovation, apply for the Ideadvance Seed Fund by July 16! If you're interested in small business assistance in general, find your nearest SBDC center.