The Market: Wisconsin ranks among America's 20 most lucrative exporters by state. The value of Wisconsin's exports equals 1.4% of the United States' overall exported products for 2021.
The following list shows the top 10 countries Wisconsin exported goods to in 2021:
Canada: $7.5 billion (30.4%)
Mexico: $3.1 billion (12.5%)
China: $1.9 billion (7.2%)
Germany: $875.4 million (3.5%)
Brazil: $792.3 million (3.2%)
United Kingdom: $723.5 million (2.9%)
Japan: $687.2 million (2.8%)
Belgium: $623.4 million (2.5%)
Australia: $597.9 million (2.4%)
South Korea: $570.4 million (2.3%)
Wisconsin's top trade partners in North America, namely Canada and Mexico, approached one-half (42.9%) of the overall value of exported goods from the state.
It makes sense that Canada would be Wisconsin's #1 customer…
Canada, for example, dominates exports of recycled paper products (including tissues and toilet paper), which are made at dozens of mills across the state. In 2018, Canadians bought more than $730 million worth of machinery made in Wisconsin, including farm equipment, generators and construction equipment.
Canadian-owned businesses directly employed 16,500 workers in the Badger state in 2018.
So, how can your company enjoy the benefits of this relationship with our partners to the north?
The Opportunity: According to Trade.gov Canada is the largest destination for U.S. exports of high-value agricultural products, with a 23% market share in 2021 and a value of US$18 billion. Consumer-oriented agricultural products are foods typically sold directly in supermarkets and used in restaurants. They are the second largest automotive market in North America and one of the leading countries globally utilizing renewable energy.
Canada's wide ethnic diversity and high level of consumer disposable income provide broad food and consumer goods selling opportunities. Bridging all the country's industrial, governmental and consumer buying channels is eCommerce, a large opportunity for U.S. exporters who seek to access the Canadian market.
Canadian buyers expect reasonable payment terms, sophisticated or cutting-edge technologies, on-time delivery competitive pricing and high quality. After-sales service and support and training are also important to Canadian enterprises. Most conventions that apply in business culture in the United States apply in Canada. These conventions include setting up meetings in advance, being prepared, arriving on time and wearing appropriate business attire.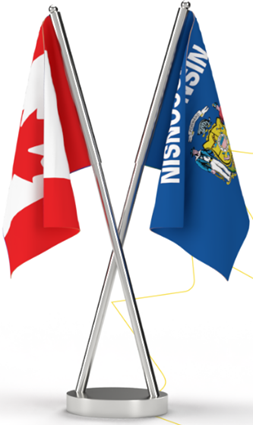 Helpful Points for Success: It is important to treat Canada as a unique market. Understanding Canada's culture, history and geography will be helpful for developing business relationships.
U.S. companies, particularly small- and medium-sized firms, must demonstrate credibility and a long-term commitment to the market. Making frequent reference to well-known and established clients, as well as identifying positive economic or environmental implications for Canada during sales presentations, will resonate strongly with Canadian counterparts. Identifying the sustainable aspects of a product is also a crucial selling point in Canada. The information can include the use of recycled materials, organic content, sustainable production techniques and use of local production.
Canadian buyers are price-sensitive; therefore, U.S. companies should research competitors' prices and wholesale distribution margin models within their industry and be prepared to negotiate on price to win contracts while offering attractive margins to all parties. U.S. companies should also publish price lists in Canadian dollars.
The ITA's website has a great list of selling factors and techniques to help Wisconsin companies identify common practices to be aware of when selling in the Canadian market. https://www.trade.gov/country-commercial-guides/canada-selling-factors-and-techniques
As always, Wisconsin's Go Global Initiative is here to help you and your company grow by providing you with the technical expertise to find and enter new market.