Staffers at our 13 Wisconsin Small Business Development Center (SBDC) Network locations are working to support small business owners who are facing unprecedented and steep challenges during the COVID-19 pandemic.
Many of us work on University of Wisconsin System campuses, which have canceled or postponed larger events in the near future, and a number of staffers are shifting to remote work situations. If you have registered for a class, your local center should be reaching out to you if you haven't been notified already about the status.
You can still reach out to our consultants and staffers via phone and email to figure out how you might meet virtually.
If you have never worked with the SBDC and are looking for assistance, find your nearest center and reach out.
The Institute for Business & Entrepreneurship created this page to anchor important information and resources for small business clients, including U.S. Small Business Administration guidance and assistance.
Additionally, March 18 is the fourth annual #SBDCDay, which we will continue to celebrate via social media (Facebook, Twitter) to spotlight the success of our amazing clients and our talented, dedicated SBDC professionals on our 40th anniversary.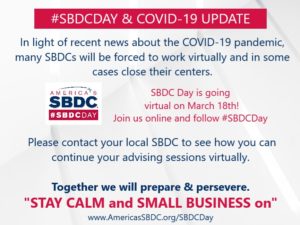 America's SBDC are working to help small businesses address the business challenges of COVID-19. They have gathered information and resources to help small businesses plan for and respond to the pandemic.