Austin and Hannah McCourt took the leap to purchase the coffee shop where they were working, and their entrepreneurship journey has been well worth the risk! The couple guessed their restaurant background would be helpful as business owners, but they also knew they would experience a learning curve as new owners of Badger Brothers Coffee in Platteville, WI.
THE BUSINESS
Austin and Hannah turned to the Small Business Development Center (SBDC) when they needed assistance with their business plan, financial projections and a purchase agreement. Jason Schleip, a consultant at the SBDC with a specialization in the food industry, was a big help. "Jason was a huge resource for us. He was great at answering all of our questions about owning a business," Austin said.
The facility on Main Street houses two operations: the hometown café on the front side of the building that serves both breakfast and lunch and the roasting operation in the back of the building where they roast coffee beans and process both wholesale and direct to consumer coffee sales.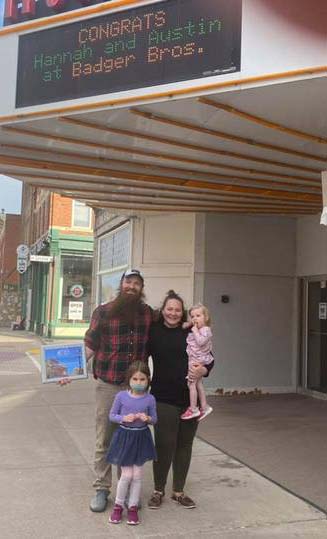 THE GROWTH
Since Austin and Hannah took over the business in January 2020, they have made some exciting changes. They partnered with other local family-owned businesses who also share an interest in community-building to increase the retail options offered in the café. Badger Brothers Coffee now has their own line of candles and homemade soaps made possible by these area artisans.
They also sell a co-branded line of hoodies, crew neck shirts and more created through a partnership with Wisconsin Clothing Company. "These items fly off the shelves during holiday season," Austin commented.
The couple used their previous experience in the restaurant industry to expand the options and increase the variety offered on the café menu, including made-from-scratch apple pie and cinnamon rolls as well as grilled PB&J, stuffed avocado toast and a variety of flatbreads.
THE CHANGES
Other changes at Badger Brother Coffee came into play when the COVID pandemic hit, and the business needed to shut down for two months. This resourceful duo moved all their in-person operations to a drive-thru when the café closed. They also began using an online coffee ordering app and offering curb-side pickup.
They wisely used the shutdown as a chance to make facility improvements. They mounted plexiglass barriers at the cashier counters in preparation for reopening and they installed new flooring and repainted. The business was thrilled to win the award for Best Interior Renovation sponsored by the Wisconsin Main Street program.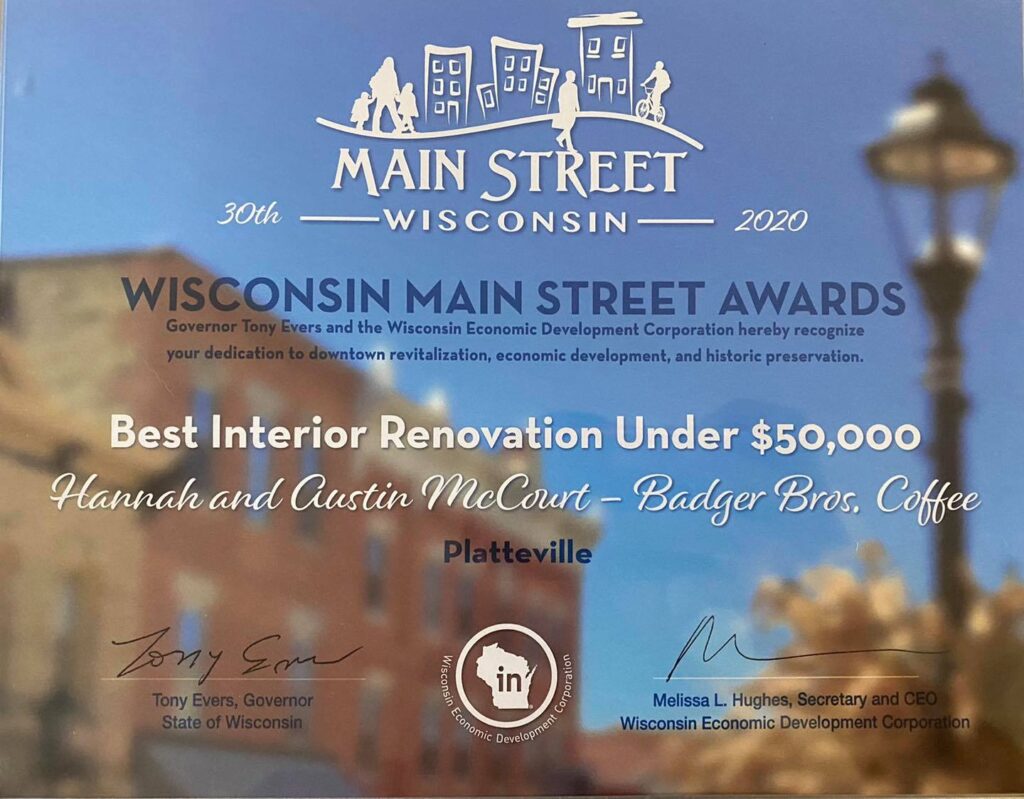 THE FUTURE
The couple continues to grow and increase their marketing efforts. "Look for the Badger Brothers name," Austin advised with a smile in his voice. "We'll be out there."
"Jason was a huge resource for us. He was great at answering all of our questions about owning a business."
Austin McCourt
Badger Brothers Coffee
Accomplishments with Southwest Wisconsin SBDC
Business plan
Financial projections
Purchasing agreement