Pat and Kelly McGinnis started Kelly's Pot Pies and More in East Troy in November 2020, and the experience has been a whirlwind of activity ever since. No other business in the area specializes in pot pies, so these delicious, hearty treats are quite a hit. Customers love the idea of stocking their freezers so they have this quick, easy to fix meal on hand when they don't feel like fussing. Although the majority of the pot pies are sold frozen, the small business also offers both Hot, Ready to Eat and Heat-N-Serve options.
THE CHANGES
When they first started, Pat and Kelly were handling all the small business tasks themselves. Family members began to chip in regularly as the shop got busier, and now Kelly's Pot Pies employs two part-time employees as well. In the few short months they have been open, they have made additions to the menu, too.
At first, they only sold chicken pot pies, but now they offer beef, turkey and vegetable varieties too. They added quiche, cookies, and cheesecake to their offerings as well, including the Patio Club Lemon Torte which was one of Kelly's grandmother's original recipes. The family has a history in the restaurant business and true to the family tradition they "put a little love in everything they make."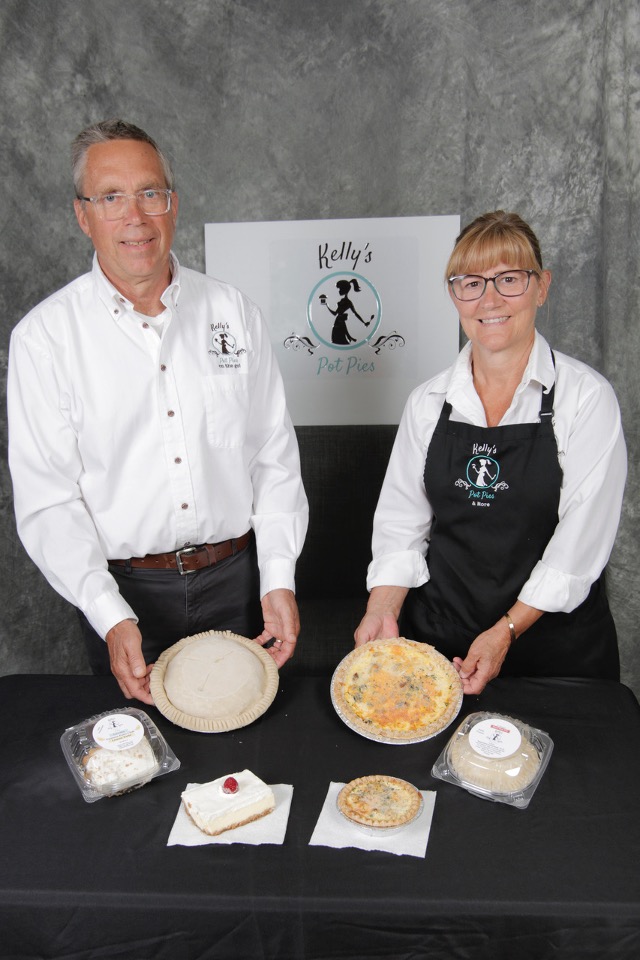 THE GROWTH
Pat said the business really started taking off thanks to a local senior living center which needed delivery orders. And, thus, he knows the importance of community. Pat and Kelly have held fundraisers for local families in need, donating 10% of their proceeds to assist the families. Their sales quickly branched out to providing wholesale items at places that specialize in local products like Hartford Public Market, Eagle Public Market and Pop's MarketPlace.
The business began by sharing a commercial kitchen with The Venue East Troy. The Venue was experiencing a downturn due to the pandemic, so it was a collaboration that benefited both small businesses. Pat said the pandemic actually resulted in a few advantages for them. "People were already accustomed to curb side pick-up and to go orders during the pandemic, so the fact that our space did not have sit down/eat in facilities was not a deterrent. In fact, people were eager to help small businesses survive the economic effects of COVID, which helped us quite a bit."
THE CHALLENGES
As the business continues to thrive, Pat said, "The challenge is to find time to take care of all the little things." When they needed a business plan to submit as part of a loan application, they turned to Ron Chisholm at the UW-Whitewater Small Business Development Center (SBDC). "Ron reassured us we could do it. He gave us the confidence to move forward and always had time to answer our questions."
THE FUTURE
Pat works on the business side of the establishment, and Kelly handles the recipes and the kitchen focus. They are both excited to incorporate farmers markets into their schedule in the future and love the idea of someday moving into a new space with their own commercial kitchen. "Ideally, we would love for this to be a family business for our daughter and son-in-law to keep in the family for many years," Pat said with a smile in his voice.
"Ron reassured us we could do it. He gave us the confidence to move forward and always had time to answer our questions."
Pat McGinnis
Kelly's Pot Pies and More
Accomplishments with Uw-Whitewater SBDC
Business Plan
Business growth strategy