John and Jessica Ludwig opened Riley's Sandwich Co. in Shorewood in 2021. In just a few short months, this small business grew by leaps and bounds. The business is named for their own dog, a Jack Russel/Beagle mix whom they adopted about 14 years ago.
THE JOURNEY
The couple learned a lot on their journey to open Riley's Sandwich Co. Since dogs are welcome in their café, they had extra requirements to meet. They needed to add a wall to create two separate spaces for food preparation and dogs. They also had to meet specific HVAC and other licensing requirements.
They worked with contractors on the demolition and remodeling of the physical space since they wanted to add a dine-in seating area and they needed to add an ADA-compliant ramp so the restroom could be open to the public. "There were lots of unanticipated needs, but we figured it out along the way," John said.
THE ASSISTANCE
John and Jessica came to the UW-Milwaukee Small Business Development Center (SBDC) when they needed help finding funding sources. They worked with Athena Agoudemos, a consultant at the SBDC, on financial projections and a business plan. John said, "Her review and feedback on the business plan was invaluable because we were able to use that business plan going forward for marketing and promotion and obtaining lending."
He added, "Athena offered us new perspectives and best practices, and she taught us which bumps in the road to anticipate." The patient owners dealt with supplier delays and even suppliers going out of business. They ran into additional costs and obstacles with the plumbing and had to make accommodations for the flooring after removing a wall. It became necessary to hire a professional architect at the eleventh hour to incorporate a needed grease trap in the kitchen.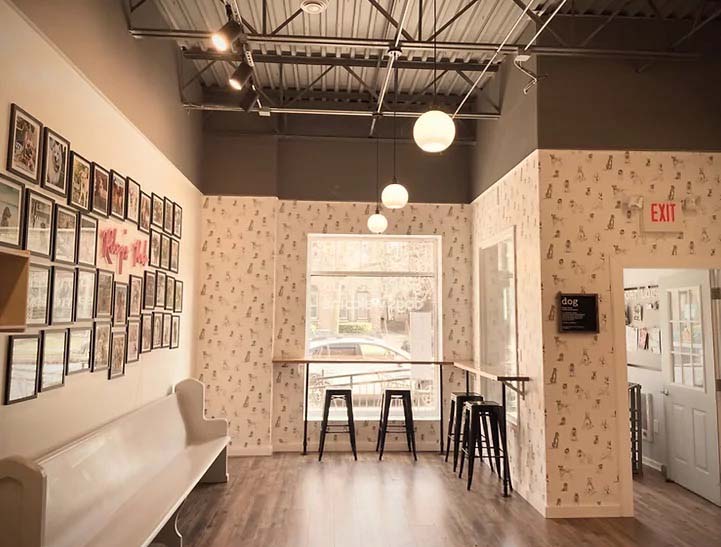 THE ACKNOWLEDGEMENTS
Their hard work has been worth it! They have already added six employees and were nominated for Best Sandwich, Best Sub-sandwich and Best Pet-friendly Establishment in the Sheperd Express Best of Milwaukee awards. Their CBR Sandwich, an organic chicken breast sandwich with bacon, housemade ranch, avocado, tomato, cheese and lettuce, was chosen as the September Dish of the Month in Milwaukee Magazine.
THE GROWTH AND THE FUTURE
The menu has grown as well. They started with just 7 sandwiches and 1 salad on the menu, but now offer more than twice as many sandwich options and 4 salads. They increased the number of snack items on the menu and recently added a second sandwich size, too. The motivated duo added catering services to their business as well. 
To get the brand out there, John and Jessica hosted pop-ups with a wood fire pizza oven at local breweries. They have formed many partnerships in the area by carrying local craft beers, donating meals to Big Brothers Big Sisters, sponsoring a Little League team, connecting with Wet Nose Candle Company and more. 
The couple looks forward to the future. "We rave about the SBDC and continue to work with Athena because she made everything so easy and made us feel secure while she rooted us on," John said. The owners are already planning to open a second location in the Third Ward. They are even thinking of branching to a location out of state in the future!
"Athena offered us new perspectives and best practices, and she taught us which bumps in the road to anticipate."
John Ludwig
Riley's Sandwich Co.
Accomplishments with UW-Milwaukee SBDC
Financial projections
Business plan
Business strategy