In 2009, Rachel and Kyle Smith originally opened Sweet Pea's in their hometown of Elk River, Minnesota, selling their pies to local retail outlets. In 2021, they decided to move to Mayville, WI, to open their first brick and mortar location. The first pie was manufactured in Mayville in July, and the retail location officially opened September 17, 2021. There were only two employees when they started, but now they have expanded the staff to ten.
The shop certainly is grounded in family tradition. Grandma Betty Matthews used to call Rachel "Sweet Pea" as a kid, creating the namesake for the business. Rachel also spent time making pies with her Grandma Ardath Peterson, who shared her famous rhubarb custard recipe still in use at the pie shop. A future mural planned for the Mayville location will feature both grandmothers.
THE COMMUNITY
The community has truly embraced this small business that sells rotating varieties of pies, as well as cakes, cupcakes, cookies and Chocolate Shoppe ice cream. Placing in the top five contestants of Wisconsin's Main Street Makeover competition in January was the spark that ignited support for this new business coming to town.
Everyone was excited to know the Music Block Building, which had been vacant for 6 years and which did not offer any retail for over 30 years, would finally be open to the public again. Some of the big draws of the historic building are its original pressed metal ceilings and its location in the middle of historic Mayville, next to the river.
A few examples of the overwhelming community involvement over the last year include an early partnership with Mayville PTA which led to the creation of videos to showcase a local playground initiative increasing accessibility to differently-abled children, and a team of 18 volunteers from the Mayville PTA who helped clean the space so Rachel and Kyle could obtain their manufacturing license in a timely manner.
Wings Over Wisconsin, a business located just a couple doors down, came to the rescue on several occasions when heavy equipment needed to be moved. The Cheese Wedge 'Uncorked' helped with equipment needs when the business recently purchased a delivery vehicle. Posie, a local clothing store on Main Street, recently offered free coffee at The Open Door Coffeehouse or a pie at Sweet Pea's to customers making a $75 purchase. Mayberry Farms has partnered with the Smiths for special "on the farm" events, and honey and pumpkins from the farm are used in Sweet Pea's pies.
THE RESOURCES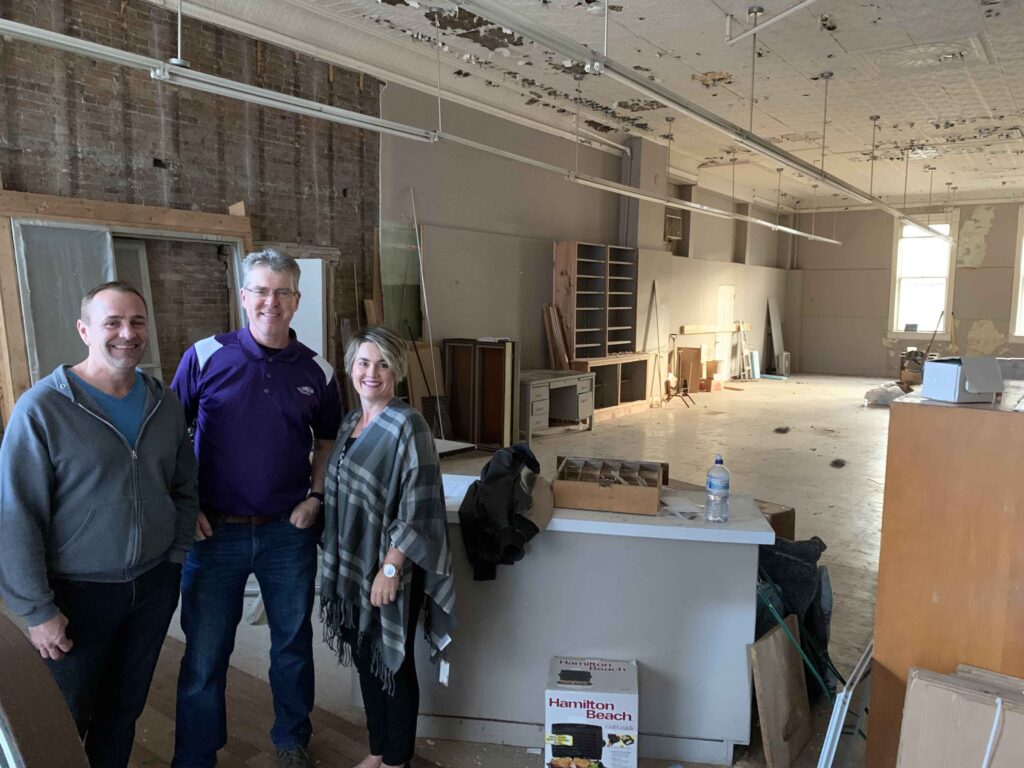 A couple entrepreneur support groups were thrilled to assist Rachel and Kyle as well. Ron Chisholm, a consultant at the UW-Whitewater Small Business Development Center (SBDC) helped Rachel with financial projections, a business plan and Department of Ag, Trade and Consumer Protection (DATCP) requirements. Rachel said, "Ron really treated us like family. He absolutely believed in us, and he was never too busy to help."
He introduced Rachel to the Food Finance Institute (FFI) for assistance with kitchen design. Rachel listened to several podcasts from Edible-Alpha® and attended a forecasting event hosted by FFI. She said, "The class was phenomenal! It felt like a master-level class and really drove home the need for our online presence."
Ron Chisholm even made the flower pickup from a local farmer for Sweet Pea's grand opening celebration. On October 14, 2021, the mayor, representatives from the Chamber of Commerce, members of Main Street Mayville, FFI team members, and Steven Kirst, Assistant Vice President of commercial lending at Ixonia Bank based in Milwaukee, all showed up for the grand opening. They were glad to see these entrepreneurs they had supported opening their doors for business. They can't wait to see what future success lies ahead for this hometown pie shop!
"Ron really treated us like family. He absolutely believed in us, and he was never too busy to help."
Rachel Smith
Sweet Pea's
Accomplishments with UW-Whitewater SBDC
Financial projections
Business plan
DATCP requirements